Richard John Palczewski
Date of Birth: April 5, 1924 on the farm west of Scranton, ND
Address: RR1, Box 220, Scranton, ND 58653
Spouse:
Bernadine Pierce Sipma Palczewski, born May 14, 1935. Married January 16, 1988. Died
Phyllis Thune Palczewski. Born March 27, 1927. Married April 23, 1944. Died June 23, 1987.
Children:
Mildred Jean, born October 23, 1946 in Miles City, MT
Deborah Irma, born October 27, 1949 in Dickinson, ND
Dale Richard, born May 4, 1954 in Bowman, ND
Dennis Walton, born May 4, 1954 in Bowman, ND
Education:
One year of high school.
Places lived and Careers:
I farmed and ranched for 43 plus years. I am now retired and live in Scranton, ND.
Interests, Social & Civic Positions, Hobbies, Sports, etc.:
Hunting, trapping, fishing, Bingo, slot machines, raising flowers, and watching young women any place.
Major Vacations:
Serving in the US Navy in World War II.

Mildred Jean (Palczewski) Richardson
Date of Birth: October 23, 1946 in Miles City, MT
Address: 309 Tamerisk Drive, Riverton, WY 82501
Spouse: Sidney Richardson born November 2, 1944 in Miles City, MT
Married: January 14, 1982
Children:
Harrison Arthur Richardson born July 16, 1985 in Miles City, MT
Family Information:
Sidney was previously married and divorced. His daughter, Kirsten, lives in Wisconsin and works for a computer company. Sid teaches Special Education.
Education:
Haley School 1960 Scranton High School 1964
Dickinson State College 1968
Several other post graduate schools to renew my certificate

Deborah Irma (Palczewski) Thomason
Date of Birth: October 29, 1949
Address: 9103 Creek Side Drive, Bismarck, ND 58504
Spouse: David Thomason born February 15, 1950. Married September 24, 1971
Children:
Radine Stacy Thomason born August 31, 1972. Married Ken Naylor in June 1996.

Dale Richard Palczewski
Date of Birth: May 4, 1954
Address: HCR2 Box 6, Reeder, ND 58649
Spouse: Merlene Kerpen born January 30, 1956
Married December 11, 1976
Children:
Nathan Lee Palczewski born October 11, 1979 in Hettinger, ND
John Louis Palczewski born February 26, 1982 in Hettinger, ND
Education:
Dale - Bowman High School 1972
Nate - Scranton High School, B.S. Dickinson State College
John - Scranton High School
Family Information:
Dale started guiding for Dry Creek Pheasants this past fall and really enjoyed it! Merlene has a cleaning business and is kept busy with that. She enjoys getting together with family and friends. Nate is a banker at U.S. Bank in Bismarck and enjoys this very much. John manages Dry Creek Feedlot and runs some black Angus cows.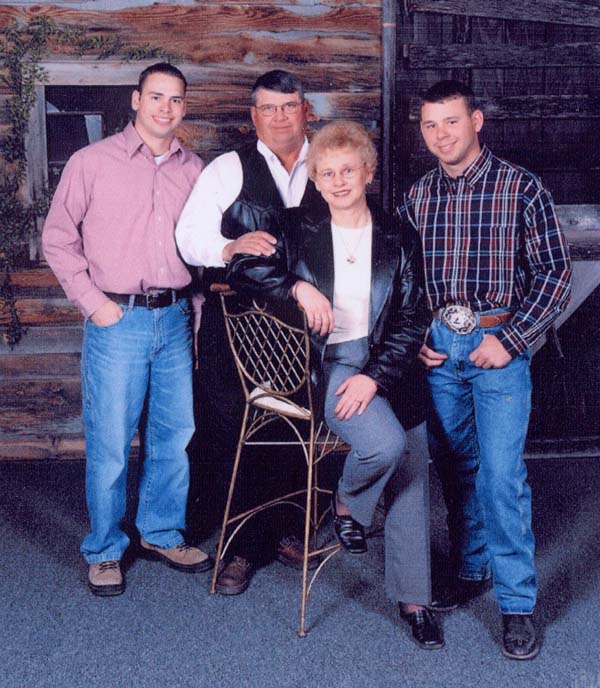 Dale, Merleen, Nate, and John, 2003

Dennis Walton Palczewski
Date of Birth: May 4, 1954 in Bowman, ND
Address: 2507 Athione Court, Ames, Iowa 50010
Spouse: Ammertte C. Deibert, born July 20, 1948, Lemmon, SD
Married May 23, 1981 in Lake Tahoe, NV
Children:
Thune Deibert Palczewski born February 20, 1982 in Hettinger, ND
Ari Deibert Palczewski born April 25, 1983 in Hettinger, ND
Education:
Dennis - B.S. Degree in Public Service and Administration in Agriculture, Iowa State University 1991
Amy - B.S. in Education, Black Hills State University 1971
M.S. in Sociology, Iowa State University 1989
Ph.D. Rural Sociology, Iowa State University